Benefits Of 3 Force as a Liver Supplement
_________________________
Contributes to liver cells and tissue regeneration
Prevents damage to the liver by enhancing detoxification of the liver
Slows and stops the effects of alcohol on the liver
Effective where acute and chronic liver diseases are present
Improves the fluidity and stability of biomembranes for healthy liver cells function
Liver damage causes serious metabolic disorders, lowers immune response, decreases detoxification functions and antimicrobial protection. Three Force formula naturally normalizes the work of the hepatobiliary system, which is responsible for removing toxic metabolic products from the body. Our liver supplement offers a significant amount of biopolymer Polyprenols which is isolated from the branches of pine trees and is an analog of the endogenous lipid dolichol. Polyprenols are transformed in the liver into derivatives of dolichols. Dolichols as isoprenoids are crucial in restoring liver cells after toxic effects.
Polyprenols are Essential to The Liver
Three Force supplemental formula contains powerful amounts of coniferous Polyprenols that are beneficial in restoring healthy liver functions. Studies have shown that usage of Polyprenols extracted from the needles of pine trees in cases of hepatitis, fatty liver, alcoholic liver disease, and drug-induced liver injury has significant therapeutic effects on the function of the liver.
Restore Your Health With Our Liver Supplement
Modern living puts a heavy load on the liver, making it critical to proactively maintain liver health. That's where hepato-protective compounds of our Three Force liver supplement formula such as Polyprenols, Betulin and Dyhidroquercetin come in. Each of these three components is a powerful antioxidant that provides support to the liver by restoring it to its original health and keeping it healthy through pronounced detoxifying activity.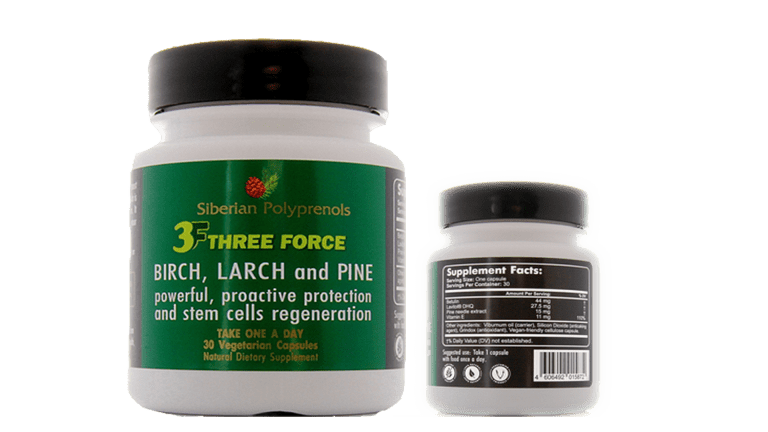 Just one capsule a day! 
Maximum protection + Liver cells regeneration = Our uniquely targeted complex 3F Three Force with a wide spectrum of antioxidant actions.
* The statements made on this website have not been evaluated by the FDA (U.S. Food & Drug Administration). The products sold on this website are not intended to diagnose, treat, cure, or prevent any disease. The information provided by this website or this company is not a substitute for a face-to-face consultation with your physician, and should not be construed as individual medical advice.